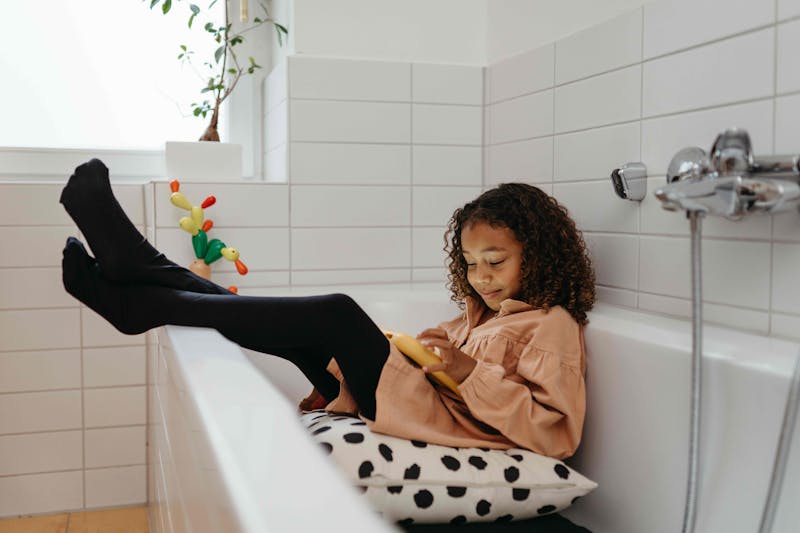 The benefits, risks, and statistics
The relationship between children and technology is one of the most important topics we face as parents today. We know that we're surrounded by devices, between our smartphones, tablets, smart TVs, and laptops. We consume content and engage with social media on a daily basis. We see emerging technology in the news like the metaverse and social trends that come and go out of nowhere. How do we make sense of all of this technology, and how do we weigh the benefits and risks of technology for our children?
There are no simple answers for these questions, but we've dug into the research and our own experiences to arrive at a few concrete recommendations. Technology has become an indispensable feature of our children's home and school lives, and something we've learned to use consciously to help our kids participate in the digital world in a healthy, constructive way.
What is the role of technology for kids
Children and technology statistics
The number of children with access to the internet and to electronic devices has been steadily increasing. The percentage of households with internet access in the EU rose from 55% in 2007 to 87% in 2017, and households with dependent children were more likely to have internet access than those that did not at 96% to 82%. Research from the UK revealed that 50% of children in sampled households had access to 4-10 devices, 32% had access to 11-20 devices, and 9% had access to 20+ devices.
The age at which children first experience technology is also getting lower, with some research suggesting that this happens before the age of two. In the UK, 52% of 3-4 year olds and 82% of 5-7 year olds were already online. Similar studies in the UK found that 73% of parents of 0-4 year olds said their child had been online on a tablet within the past month, 41% had used a smartphone, and 24% had used a laptop or desktop computer.
Finally, some statistics about how competent children have become at using devices. A study in the UK of 0-5 year olds revealed that 65% were able to swipe a touchscreen unassisted and 60% were able to trace shapes and drag items on the screen. However, only 14% were able to purchase items and 61% were unable or unaware of how to do so.
Usage rates by age
These statistics published by the OECD in 2019 demonstrate the range of activities and the sheer ubiquity of online activity in the world of technology and young children.
3-4 years old
1% have their own smartphone
10% have their own tablet
96% watch TV (for 14 hours a week, on average)
52% go online (for nearly 9 hours a week)
1% have a social media profile
36% play games (for 6.5 hours a week)
5-7 years old
5% have their own smartphone
42% have their own tablet
97% watch TV (for 13.5 hours a week, on average)
67% go online (for nearly 9.5 hours a week)
4% have a social media profile
63% play games (for 7.5 hours a week)
8-11 years old
35% have their own smartphone
47% have their own tablet
94% watch TV (for 13 hours a week, on average)
93% go online (for nearly 13.5 hours a week)
18% have a social media profile
74% play games (for 10 hours a week)
40% who own a mobile device are allowed to take it to bed
12-15 years old
83% have their own smartphone
50% have their own tablet
90% watch TV (for 13.5 hours a week, on average)
99% go online (for nearly 20.5 hours a week)
69% have a social media profile
76% play games (for 13.5 hours a week)
71% who own a mobile device are allowed to take it to bed
The role of screen time
We went into the role of screen time in depth in another article, outlining recommendations for each age and helpful dos and don'ts. Both children's education and entertainment are increasingly screen-based, so screen time can play an essential and beneficial role in our children's lives as long as we encourage a healthy relationship with our devices from an early age. The key point to keep in mind is to make screen time an intentional and purposeful event in a child's day and avoid having it idly in the background.
The role of social media and content
We may not know what every new trend is on social media, but we do know that consuming content and engaging with social media is the main thing young kids are doing online. In our screen time recommendations by age, we suggested that co-viewing and curating content is essential for younger children. However we know that as kids get older, it's more difficult to supervise exactly what content they're viewing. That's why it's more effective to provide reasonable guidelines that make sense for your household, rather than trying to control everything kids view online. We wrote a separate article that dives deeper into how children are using the internet today, including safety tips for kids and teens.
Benefits of technology for kids
Kids experience the benefits of technology when they have a healthy relationship with their devices. Some benefits include:
Access to information
High quality content can widen a child's perspective with information that's delivered more immediately than from other mediums. The right information can help children improve their critical thinking skills and learn more about the world.
Digital preparedness
We live in an increasingly digital world, and early exposure to tech means children can mature alongside their devices over time and stay prepared for whatever comes next.
Educational value
Educational apps, games, and content are popular and have instructive value, but all age-appropriate tech usage can help kids develop their fine motor skills, improve problem solving and critical thinking, and learn any number of topics like math, spelling, reading, and art in lockstep with their formal education.
Career and school opportunities
Tech literacy and familiarity with devices is useful in school and in STEM jobs, which are projected by the Bureau of Labor Statistics to grow by 8.8% from 2017 to 2029, and specifically software development projected to grow 22%..
Social engagement and participation
Technology helps keep kids connected to their family and friends on a daily basis.
Risks of technology for kids
However we can't forget the risks, which are most common when screen time and device usage exceed healthy limits. Some risks include:
Dependence and addiction
The OECD statistics from above show how much time our children are spending with their devices, so there's clearly some addiction potential there.
Attention span
Passive engagement with devices and content can cause attention problems in kids and teens.
Sedentary activity
The hours of watching content on devices in a sedentary position can add up, causing physical and mental strain.
Safety and privacy
Inappropriate ads, in-app purchases, content recommendations, and online interactions can be questionable or even hazardous.
Dos
Open the conversation about technology with your kids early
Agree on healthy usage and guidelines
Have a long term plan about the role of technology in your children's lives
Provide support and resources over time
Don'ts
Don't forget to make conscious usage of technology a priority
Don't rely on technology as an idle time filler or babysitter
Don't set a bad example
Don't ignore warning signs of overuse or dependence