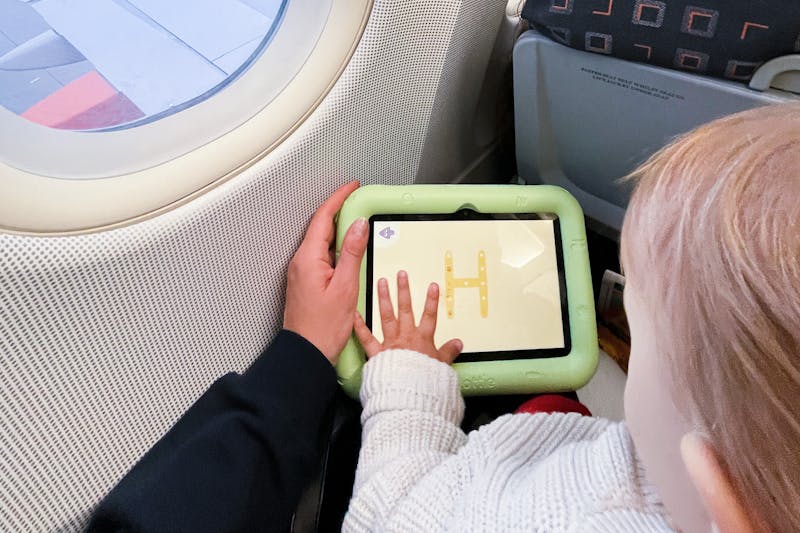 Planning a family vacation? Your holiday checklist is probably overflowing with itinerary details, confirmation codes, dates, times, and locations, not to mention packing, housekeeping, and other logistics. Well, sandwiched between all of these responsibilities is the potential for a long uncomfortable flight that's tough on even hardened adult travelers, and may be especially difficult for your little ones. Without all the comforts of home, flying can be a drag for children, especially long haul flights that will test the patience of even the calmest kids. That's why we compiled this epic list of activities for kids on planes, full of helpful tips on how to keep kids busy on a plane.
Watch a movie
Let's start with the tried and tested solutions for keeping your kids happy and sane during long flights. Watching a movie you downloaded in advance with comfortable headphones is always a convenient way to help your kids relax.
Watch a series
If a movie gets too tiring for your little ones to watch on the plane, there are plenty of TV series for kids that will help make time go by quickly. At Totoli, we're particularly keen on series that are fun, balanced, and sometimes educational, like the ones we'll be featuring in our tablets soon.
Play a coloring game
Coloring is one of those activities that can be as care-free or as focused as your kids want it to be. There are many great coloring apps like Toonia and Colorfy plus many more online that you can access if your flight has WiFi. Check out our list of the best free coloring games for kids to see more options.
Play a music game
Another one of our favorite creative activities for kids on planes is playing a music game where kids can improvise freely or even practice key musical ideas and practices on a virtual instrument. Check out our list of the best music apps for kids for our top recommendations.
Play a puzzle game
Another category of games on your phone or tablet that kids enjoy to relax on planes is solving puzzles. There are options suitable for most ages so you can entertain a 3 year old on a long flight or keep a 6 year old busy on a plane without a problem.
Listen to an audiobook
Just like we've done on many long drives, one of the best activities for kids on the plane is to listen to an audiobook. There's a large library of audiobooks for kids on providers like Audible and free options for streaming and downloading on Spotify as well.
Listen to an album
If audiobooks aren't your thing, download a bunch of your kids' favorite albums in advance and give them a comfortable pair of headphones to relax and enjoy some calming music.
Listen to a playlist
Making playlists for our kids is one of our favorite activities anyway, so we get excited about building a fresh playlist just for the plane. For older kids, this is even a nice opportunity to co-listen to songs you both enjoy.
Read a book
If your kids love to read, then the question of how to keep kids busy on a plane is solved with a good book. Just make sure you avoid books with sound that are lots of fun at home, but may not be the best on a flight.
Read to your kids
If your kids are having a hard time reading alone, reading to them quietly is a great way to stay connected with them and help them manage their mood while passing the time as well.
Play a card game
This one has multiple possibilities! You can go for a premade option like Uno or bring a classic deck of cards and play something simple like Go Fish.
Play a guessing game
You can play any number of guessing games either from an established game like Clue, or improvise a game of 20 questions where you take turns guessing what the other person is thinking of.
Play a magnetic game
Whether it's just goofing around with toy magnets or putting together a magnetic puzzle, these are great toys for planes because they're hard to lose when they stick together. If you're wondering what toys are allowed on planes and whether magnets are ok to fly with, you're in luck – magnetic toys should have no trouble stowed away in your carry-on luggage.
Play with stickers
Just like magnets, stickers have the advantage as a toy for planes because they stay stuck until you decide to place them elsewhere. We're fans of sticker books where your kids can arrange and rearrange to their hearts' desires.
Play with finger puppets
This one might be a little bit of a throwback, but we've gotten plenty of laughs and entertainment playing with finger puppets with our kids. Bring your favorite few and put on a little show together.
Do a scavenger hunt
A scavenger hunt on a plane? Well, it's possible with a little imagination. Create a list of items that your children can easily spot from their seat or from the aisles and have them look for them based on the clues you provide.
Solve a jigsaw puzzle
Where toys and activities for children on planes go, a jigsaw puzzle with many small parts may not sound like an ideal choice. However, there are travel-friendly magnetic options and easy puzzles with large pieces for your younger kids.
Name the animals
To answer the age-old question of how to keep kids busy on a plane, we're no strangers to fun improvised games. In this game, you simply give clues about the animal and have your kids guess which one you're thinking of!
Name the countries
If naming animals is a little bit too childish for your children, try naming countries! Give some clues and test your kids' geography skills.
Name the foods
Finally, there's naming foods. Kids of all ages will enjoy guessing what food you're thinking of and the fun facts and clues you give to help them guess correctly.
Doodle
If your kids are natural doodlers or artists, don't forget to bring some basic art supplies to help them stay occupied.
Color in a coloring book
Can you bring crayons on an airplane? Sure! Whether it's crayons, pens, or colored pencils, most varieties should be perfectly fine to bring aboard so your kids can pass the time focused on a coloring book.
Etch a sketch
Are toys allowed on flights? It's a broad question, but most everyday toys should be ok to bring on board. We try to avoid toys that might make a lot of noise, but a classic creative toy like the etch a sketch is no problem at all.
Fold origami animals
We've gotten into folding origami animals a little bit and found it to be a perfectly engaging and calming activity on land, and we expect it to be the same in the air!
Hold a stuffed animal
Can kids bring stuffed animals on planes? As long as we're talking about a conventional cuddly plush animal, and not a giant one the size of a chair, you should be good! Your child's favorite fluffy friend might be a mandatory carry-on.
Make a digital photo album
If you're anything like us, you have a lot of unorganized photos on your phone. You might think of organizing some of them into albums while you're idling on the plane. You can make this a group activity with your kids to make memorable family albums they can also look back on later.
Edit pictures
While you're making that family album together, you might even think of editing some pictures together using a simple app to make meaningful adjustments or just goof around with effects.
Make a mini documentary
This requires a little bit of planning and creativity, but consider having your older kids make a mini documentary about the journey.
Write postcards
Bring a few postcards onto the flights so your children can take time to write a few thoughts for friends and relatives.
Write a poem together
When you're both feeling inspired, try putting together simple poems either out loud or on paper.
Tell a story together
Whether it's taking turns saying one word to build a little story or writing something down for them to read, try a relaxing storytelling activity to pass the time.
Relax with a pillow
Does a pillow count as a personal item? Generally it's fine to take as an additional item to your carry-on luggage, which should be extra comforting to your little ones who could benefit from the cushiness and support.
Go for a walk
It's important for your kids to get out of their seats occasionally to visit the bathroom but also to move their bodies a little bit.
Stretch it out
It's a long flight! Don't forget to coordinate a little stretch with your kids so they also stay loose.
Count the seats
As an additional activity to accompany your walk, play a simple game and count the seats with your little one while walking up and down the aisles.
Say hello to the flight crew
When it's a good time, have your young children say hello to the flight crew and be extra courteous.
Take a snack break
Water and snacks are crucial to a smooth flying experience. Time your snack and bathroom breaks well so you avoid any uncomfortable situations.
Change outfits
For extra long flights, it might be a good idea to have a quick change of clothes just to avoid the irritating feeling of clothes that might have gotten stained or sweat through.
Share your travel goals
Take a moment to talk about the flying experience directly and to share some goals you have for the trip.
Thank the flight crew
When it's all over, have your kids thank the flight crew and say goodbye!